Cotecna is mandated by the Egyptian National Food Safety Authority (NFSA) to issue Certificates of Inspection (COI) for food imports to Egypt.
On the 18th August 2020, a signature ceremony was held in Cairo between NFSA and Cotecna in order to ensure the safety and quality of imported foodstuff into Egypt. They were represented by NFSA Chairman, Professor Doctor Hussein Mansour and Cotecna Egypt General Manager, Yasser YASSIN.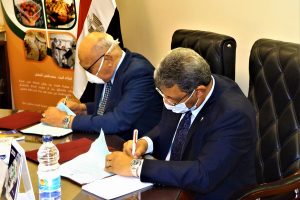 As part of our trusted partner with Egypt and based on Decree n°2 for 2020, Cotecna will be able to accompany importers and exporters in issuing a Certificate of Inspection.
The NFSA regulated product list currently concerns:
Milk and Dairy products
Dried and preserved fruits
Oils and fats
Sugar confectionery
Chocolates and Cocoa products
Natural, Mineral and soda water
Wheat
Food contact tools
On a side note, until the programme is officially launched, Cotecna continues to issue Certificates of Conformity (COC) for foodstuff under the GOIEC Programme.